SEEING WITH THE BODY/VIDETI S TELESOM
6. julija, 2019 10:00

-

7. julija, 2019 17:00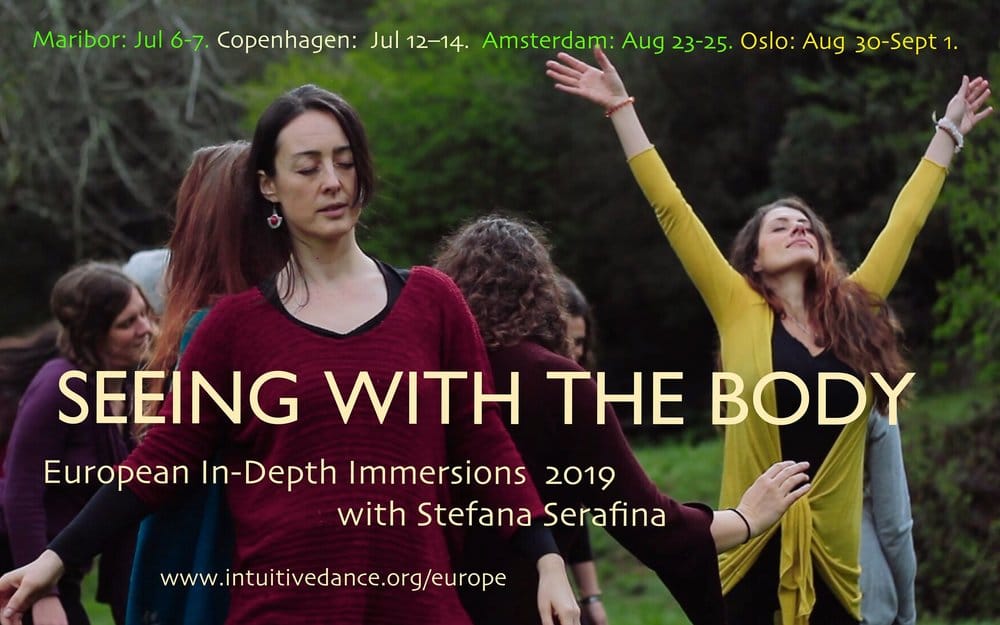 Join us in picturesque Maribor, Slovenia for one of our four EUROPEAN DEEP-BODY IMMERSIONS FOR WOMEN with Stefana Serafina this summer.
Maribor, Slovenia: July 6+7
Copenhagen, DENMARK: July 12–14 2019
Amsterdam, NETHERLANDS: Aug 23–25
Oslo, NORWAY: Aug 30–Sept 1
During this weekend immersion with embodied empowerment teacher, guide, and writer Stefana Serafina, we will reconnect to our deep bodies as the intelligent, intuitive, self-organizing living systems constantly in contact with the deeper dimensions of the psyche and the natural world. Based in the San Francisco Bay, Stefana brings her unique model of the Deep Body© and the transformative movement– and earth–based embodiment practices to Europe once a year.
This summer, during all European immersions we will emphasize a renewed experience and understanding of eros, the erotic nature of life, earth, and being, and the legacy of the female form as a way of waking our most inherent and purposeful capacities. Stefana will share for the first time in Europe the "Nesting with Eros" work and practices, which are at the foundation of her upcoming book with the same title.
ABOUT THE SEEING WITH THE BODY IMMERSIONS
Seeing with the body is to attune to the sense-based intelligence that surrounds us. It means to know deeper than our thoughts. To attune to the feminine language of life. To be able to access dimension and felt knowing through the sensuous vessel that homes our being, and connects us to the living web of life.
Through uniquely designed embodied investigations, intuitive and creative movement and dance, sensual anatomy practices, myth and storytelling, full-body enactments and witness work, we will practice the deep re-inhabitation of our feminine nature and psyche, reinstating ourselves into the fabric of flow and wholeness as our primary nature. We will work with powerful practices to expose the body-armoring that we have normalized within, and untie the knots of tension and restriction held in the body, so we can re-invite our remarkable sensitivity, inner body seeing, and sensual genius as higher forms of intelligence.
Engaging with the different layers of the deep body–– visceral, sexual, emotional, cognitive, and spiritual––we will explore layers of inner knowing, in fact and mystery, rekindle the fluidity and sensuousness that are native to our inner ecosystems, and cultivate lasting skills for living as embodied, empowered, and sensually expressed women who remain connected to their deep life while leading on the edge of social change.
Maribor, SLOVENIA: July 6+7
Sat 10–18h, Sunday 10–17h
Contact: Vida Voncina, vida.voncina@gmail.com
WE STRONGLY ENCOURAGE YOU TO VISIT OUR WEBSITE to discover more about the work, the immersion, to see videos, or to register.
https://www.intuitivedance.org/europe